Pipkin Ranch Outfitters - Testimonials
Here's what a few of our customers have had to say about us. Have a testimonial of your own to share? Click Here fill out our short testimonial form.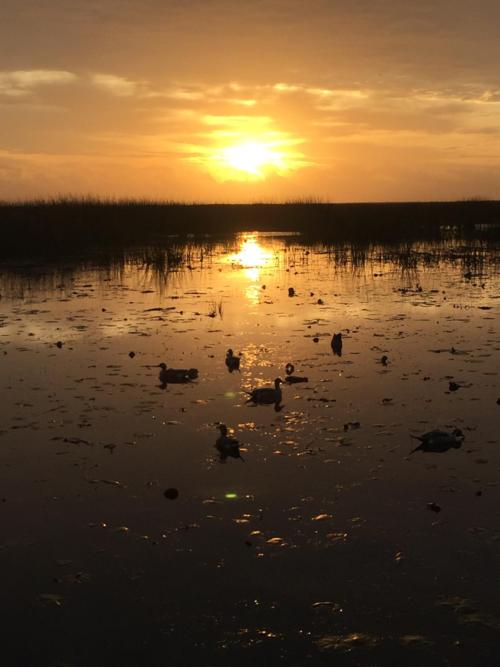 Paul
Early Teal & Second - Fort Worth, TX
Not enough can be said about the operation that Pipkin Ranch Outfitter's runs. We booked a cast and blast in September for a large group and the men at PRO bent over backwards to accommodate us. We killed full limits on both hunts(12 Limits Total) in two days and filled the coolers with Reds/& Trout. We couldn't wait to get back down there, so before we got home we booked another trip for the second split. Again we limited out on both hunts(6 six limits). The landscape, heritage, and people at PRO will make your trip one to remember. You hear all of the great stories of Arkansas, well let me just say, Pipkin Ranch has Stuttgart beat hands down. There is great lodging, awesome food, and good people in Winnie.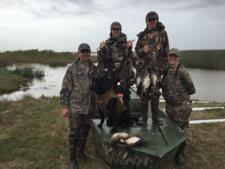 Robert
Fall 2015 - Winnie, Tx
Just wanted to say thanks to Tony, Brad, and the rest of the crew at Pipkin Ranch. I brought my 2 sons (12 & 14 years old) and my wife, who has never been duck hunting before. Tony did a great job of making it a fun event for the whole family, not to mention lots of shooting. I'm already trying to find a date to book another hunt!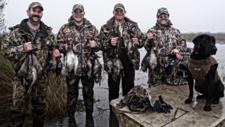 Jackson, Richter Bros and Little
Dec 2014 - Winnie, TX
This hunt was a reunion of friends and family who hunted together back in our high school days over 20 years ago. We could not have scripted a better hunting day than experienced with Pipkin and Tony this past December. It began with a foggy, cool ride in an airboat which was a first time ride for most of us. The adrenaline rush from an airboat ride to start the day easily supersedes any that a cup of joe can provide and with a quick step from the boat to the blind we were all anxious to get started. The fog was so dense our safe light was pushed out over 30 minutes past normal and eventually we could begin to make out the ducks we had been hearing drop in on us since our arrival. The natural blind was well constructed, blended in perfectly and was comfortable. We all paused for a moment to join in on a Jackson prayer to thank God for our Texas blessings and to provide us all safe adventures. Once Tony started working the call it was fast action that made Shiner one happy dog. The morning was all that more special watching a well-trained dog like Shiner work and despite our midway shooting abilities collapse we were all limited out in a little over 2 hours. We spent some time gathering dekes while reliving our morning experiences and watching the ducks continue to fly in. After a few pictures and some good laughs (in the future face paint will go on before we get in the field) we all loaded up for an enjoyable ride back in. We would like to thank Pipkin Outfitters and Tony for making this hunting reunion a memorable one. Pencil us in for a couple next year, we will be there.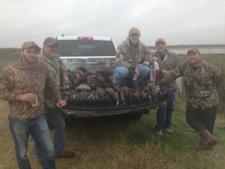 Charles Graves
Dec. 2014 - Port Neches, TX
Second year in a row to hunt around Christmas and again we weren't disappointed. Top notch guide and the ducks were plentiful. Couldn't have had a better time or hunt in this area. Cannot wait to book a hunt for 2015. If there were anywhere or any outfitter in this are I were to suggest, it would be Pipkins Ranch Outfitters.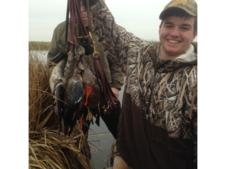 Travis
Winter 2014 - Tyler TX
I want to say a big thanks to Greg as our guide yesterday. He was very patient and provided above and beyond what was exepcted of a guide. Our group ranged in age from 15-64 and he catered to each one of us. We were first time hunters and inexperienced overall even with our guns. Our group was not prepared for what they needed for the hunt and Greg helped out by providing necessary gear and even lent his gun when one of our guns wouldn't fire. We will definitely be back again! Thanks for an awesome experience.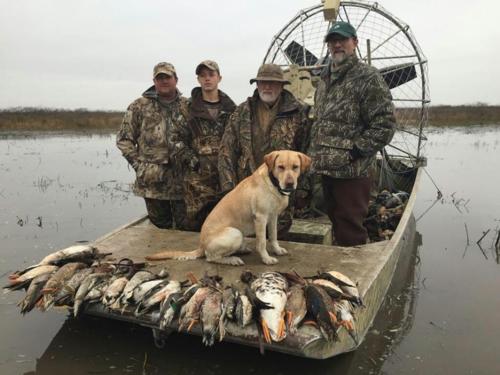 Southern Arms and MFG LLC
Winter 2014 - Fannett ,TX
Pipkin Ranch is my absolute favorite place to duck hunt. I have hunted with every guide and I'm here to tell that you cannot find a better group of guys. They work very hard to find birds and move blinds to the best locations for the next hunt. Through the past two years I've done the majority of my hunting at Pipkin. I suggest if you have not tried them you are missing out on some of the best quality duck hunts in South East Texas.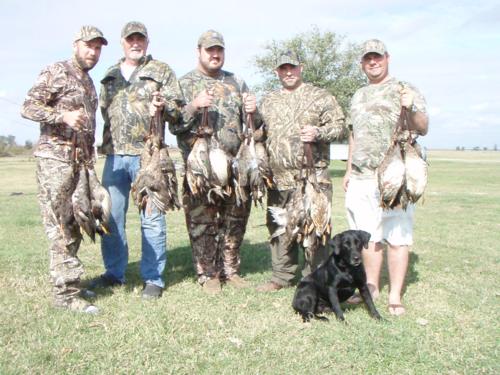 Taylor Neild, H.B. Neild & Sons, Inc.
December 2014 - Beaumont, Texas
Brad, Fletcher and crew run a first class operation. I would highly recommend this outfit for any level of hunter. Perfect for kids, friends or Business.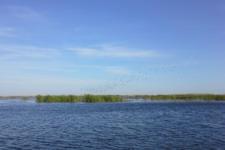 Logan Carlson
Opening Weekend 2014 - Montgomery, TX
I had a great experience hunting opening weekend with Pipkin Ranch Outfitters. Our guide, Greg, was very knowledgeable and entertaining. We arrived at our blind to a marsh loaded with ducks. Once shooting time arrived the action was constant until we reached our limit. We had a mixed bag of Pintail, Blue Wing Teal, Gadwall, and Ring Necks. I will definitely be hunting with Pipkin Ranch again.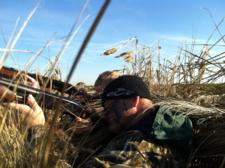 William Broadus
Opening of Big Duck - Winnie, TX
The experience was exceptional from start to finish. The guides were knowledgeable, informative and friendly. I'm glad I choose Pipkin's to take my son on his first duck hunt.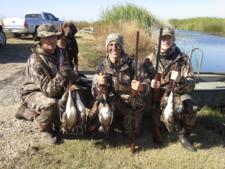 Ben McClain
3rd Nov 2014 - Woodlands TX
Had a great time with my Dog Milo, son Matthew and 7 friends, 1st class outfit... Lots of ducks, Mixed bag with Pintail, Teal and an occasional spooney. The guide (Greg) was super friendly and great on a call. Would definitely recommend and will be hunting Pipkin Ranch again this year. Thanks Pipkin Ranch for the great outdoor experience and Hunt.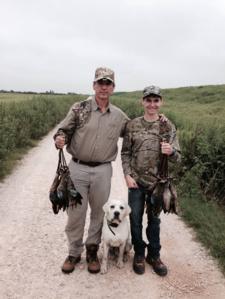 Shane Andrepont
Teal/ Fall 2014 - Kingwood, TX
Hunted opening weekend of teal season with Pipkin Ranch and had a great time. John West was our guide and did an excellent job. This was my pup Milo's first duck hunt and he got a lot of work in. We limited out on teal and we all had a blast!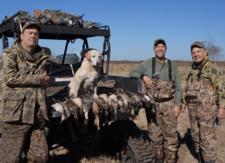 Stephen Lackey, Gil Castro and Steve Barre
January 19, 2014 - Winnie
Pipkin Ranch runs a first class operation. We met our guide, Tony Viator, loaded up in the Polaris and were set up and ready 10 minutes before shooting time. Our blind was a little island with great natural cover. As the ground fog started to burn off, ducks were working the decoys in pairs and small groups. In between shooting, we talked with Tony about hunting, dogs, and of course their future plans for the Pipkin Ranch Property. My friend Gil Castro accompanied Steve Barre' and myself on this hunt. Gil is 75 years young and grew up in Port Arthur. He would tell me stories about the fantastic hunting on the Pipkin Ranch when he was a boy. He paid a $3.00 gate fee and $2.00 for a box of shells, and though the economics have changed, the quality of the hunting has not. I have been a member of Duck Club in the Blessing, Palicios area for the past 25 years, I hunt about 30 days a season and rarely do guided hunts. Tony has a wealth of knowledge about duck hunting and the local area and was a pleasure to share a blind with, rest assured we will be back next year. Our limit filled by 10:00 am, we picked up, took some pictures and headed back to the trucks. This turned out to be my last hunt of the 2013-2014 season. Thanks for making it a memorable one.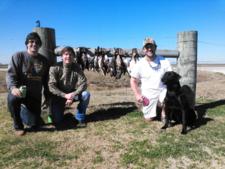 Soap Hand Car Wash
Winter 2014 - Houston, TX
Great hunt, great guides, and lots of birds. Beers afterwards was a lot of fun. Thanks for a memorable hunt.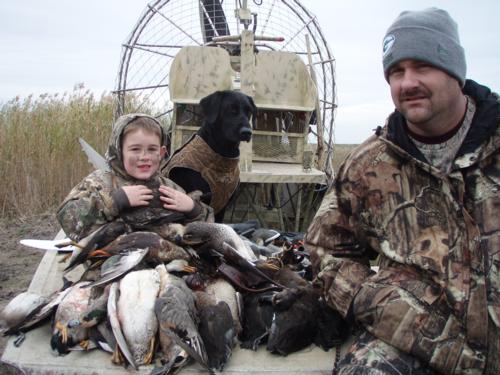 Mike
Winter 2013 - Winnie
I took my 7y/o son on his first duck hunt at Pipkin Ranch, and we had an awesome time and saw lots of birds. The guides were very professional and patient with all of my miss shots, and we are already looking for our next hunt before the season ends. I highly recommend this ranch, thanks again Brad. Mike and Caden
Larry Beaulieu
Fall 2013 Duck Seaso - Beaumont, TX
Opening day hunt with the guys from Pipkin Ranch Outfitters was great. A good number of limits, and my dog "Wader" had a blast!
Morrell
Fall 2012/2013 - Beaumont, Texas
Have gone on multiple hunts, all have been excellent and very professionally done. Hands down best guide service in southeast Texas.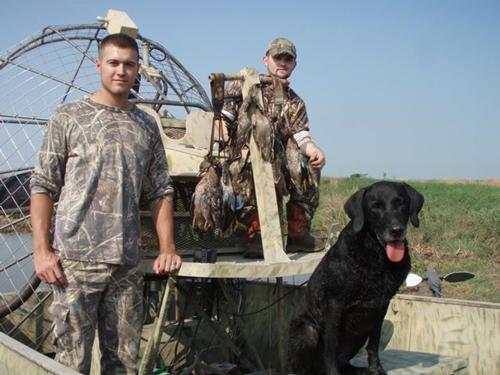 Joshua
Hunted opening day of teal season with Brad, we had limited out in less than two hours of shooting time. Great service all around, excellent guide and best Labrador retriever I
have hunted with. Looking forward to my next hunt with Pipkin ranch outfitters.




Steven Moore
Teal 2013 - Nederland, Tx
Our first choice for guided waterfowl in S.E. Texas. A great experience every time we hunt at Pipkin Ranch.
Send Us A Comment
To our past clients: We appreciate your comments and if you would, fill out the form with comments and a photo about your experience at Pipkin Ranch Outfitters. Fields marked with * are required. Please enter the Name field how you want your name to read on our website (Examples: John Doe, J. Doe, John D., John Doe Corporation).